Gaines School Hours are as follows:
M, Tu, Th, Fr  7:00am-1:15pm,  Wednesdays 7:00am-12:15am (Early Release)
The Gaines Alternative School serves students who have been administratively assigned to the facility as a result of significant violations of the Student Code of Conduct Letter 2020-2021. In addition to educational services, the school has a strong emphasis on behavioral intervention and management with its students.
This is just a reminder that anyone (parent, guardian, friend, neighbor, aunt, uncle) must have school access to attend an event at the Evelyn B. Hamblen Center. If you have not already done so, please complete the School Access Form. The process for approval may take up to 4 weeks, so please fill out the application sooner than later for any guests that would like to have school access. Once the application is approved, school access will be valid for three years.
FAQ for Emergency Order 2021-EO-02 (Spring 2021 Assessments, Promotion, Retention, Graduation, VPK)
The SJCSD Guidance Department has provided an FAQ to answer common questions about Executive Order Number 2021-EO-02 which was recently issued by the Florida Department of Education. The FAQ discusses the impact Executive Order 2021-EO-02 will have on assessments, promotion, retention, graduation, and VPK.
The + Positive + Start Program enables students to practice the prerequisite math skills needed to be successful in the mathematics course in which they are enrolled in the next school year. Completion of the course will likely give students a positive start in math.
The + Positive + Start Program is a FREE, voluntary, non-credited, unsupported, self-paced review of math skills through Khan Academy. The
goal is to give students a boost in the prerequisite math skills needed to be successful in the mathematics course in which the student is
enrolled in the 2021-2022 school year. The work is meant to be done independently. Students will not be monitored or supported by an
instructor. The + Positive + Start Program is not associated with any state defined mathematics course and the review of math skills is not
comprehensive and/or parallel to a state defined mathematics course.
ESE Parent Advisory Meetings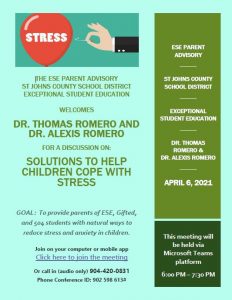 On April 6th from 6:00pm to 7:30pm, the ESE Parent Advisory will welcome Dr. Thomas Romero and Dr. Alexis Romero for a virtual discussion titled "Solutions to Help Children Cope with Stress." Join the meeting online via Microsoft Teams or join via phone by dialing 1-904-420-0831 and then entering the conference ID: 902 598 613#
FortifyFL is a website and app developed at the direction of the Florida Legislature. Any student, educator, parent or member of the public can report school safety concerns directly to law enforcement and school administrators anonymously and easily through the FortifyFL app or getfortifyfl.com.